Terry Koyman Galleries
1771 St. Laurent Blvd.
July 2011 – March 2012
Truffle Pigs
Field, British Columbia
July 2005 – 2016
Chameleon Nation
Kingston, Ontario
July – August, 2009 
2017  "Multifarious"
Artisans on Main
Montague, PEI
1995  
"Plain Art, Plane Art, Playin' Art"
St. Lawrence College Gallery
Kingston, ON
1991   "Joys of a Split Personality"
St. Lawrence College Gallery
Kingston, ON
1973   House of Lords Gallery
Provo, Utah
1973   Wilkinson Center Gallery
Brigham Young University
Provo, Utah
June 29 – August 9, 2009 
MVS Gallery
Brockville, Ontario
Honorable Mention Award
2008   "Art of tthe Outdoors"
Chameleon Nation
Kingston, Ontario
2008   "Art of the Street"
Chameleon Nation
Kingston, Ontario
1983   Zwickers Gallery
(Canada's oldest gallery)
Halifax, NS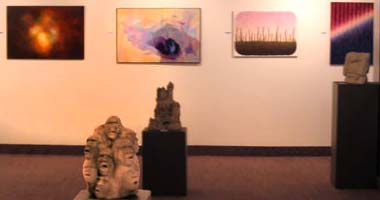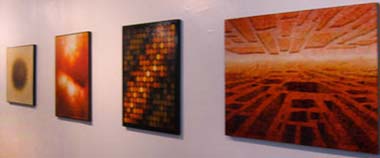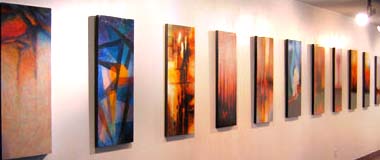 1975 P.E.I. Department of Tourism Poole's Corner, P.E.I.
"The Hedgerows of P.E.I." 6' x 8' Acrylic mural.
10 animal & 15 plant species protected by hedgerows.
1981 Johnson Restaurants Charlottetown, P.E.I.
Seven large landscapes 48″ x 32″
1983 Hotel Charlottetown Charlottetown, P.E.I.
Twenty-four landscapes in oil 16″ x 20″
1982 Johnson Restaurants Summerside, P.E.I.
"Summerside Harbour: 100 Years Ago" 4' x 8' Acrylic mural.
Queens Wharf & sail ships of mid 1800's.
1983 Latex, Nova Scotia Dept. of Forestry Shubenacadie Wildlife Park
"The Forest Community" 28' x 8' latex
Scene showing 46 species of animals their natural forest setting.
1984 Cape Breton Coal Miners' Museum Glace bay, Nova Scotia
"The Carboniferous Forest" 15' x 10' Latex
Diorama backdrop of carboniferous swamps from which coal formed.
1985 Island Food Centres Charlottetown, P.E.I.
"A Tribute to P.E.I. History" 20' x 6' Latex
Vignettes honoring P.E.I. heritage of the Acadians, Scots, Loyalists, Micmac, etc.
1986 New Brunswick Dept. of Tourism St. Stephens, New Brunswick
"Life Cycle: Atlantic Salmon" 8' x 8' Acrylic
Stages of salmons' life in natural underwater setting.
1992 The Old General Store Murray River, P.E.I.
"The Golden Age of Sail" 16′ x 10' Enamel
Shows the village a century ago, a shipping port and shipbuilding center.
For twenty years this was P.E.I.'s largest outdoor mural.
1989 Celanese Canada Bath, Ontario
"1954 Diner" (7' x 12') Enamel
Interior of a roadside diner when factory opened.
2014 Town of Montague Montague, PEI
"Montague Harbour 1905 with The Empress " (7′ x 16′) Enamel
Historically accurate view of Montague Harbour
2014 Town of Montague Montague, PEI
"Under the Waves" (8′ x 24′) Enamel
This is now PEI's largest outdoor mural
Shows 16 species important to the PEI fishery